August 12, 2014
GIANT PANDA'S ALBUM "STEADY" COMING
"
Giant Panda Guerilla Dub Squad
, the boundary-pushing reggae band from Rochester, NY, will release its latest studio album,
Steady
, on September 30, in its first collaboration with independent reggae label Easy Star Records.
The bulk of the songs on
Steady
were recorded in 2013 with
Craig Welsch
of 10 Ft. Ganja Plant co-producing. Two other tracks were recorded after those sessions and added to the sequence – the title track was co-produced by
Danny Kalb
(The Green, Ben Harper), while live show favorite "Mr. Cop" was recorded with
Matt Saccuccimorano
(John Brown's Body).
"This is without a doubt the best
sounding
record we've ever made," says singer-bassist
James Searl
. "But it's also the most consistently solid set of songwriting we've done to date."
As for ending up as part of the growing Easy Star family, Giant Panda couldn't be happier to be on the label with a roster that includes The Green, Rebelution, John Brown's Body, Cas Haley, The Black Seeds, and Easy Star All-Stars. The band and the label had been friends since 2008, but the timing was never right to join up forces until now. "Sometimes it takes a while for the stars to align right," Easy Star CEO
Eric Smith says
. "We always bounced around the idea of working with each other, but after hearing the growth on these latest sessions and seeing how good the band's live set had become, we knew now was the time to finally make it happen."
Steady
will be followed in early 2015 by a sequel to
Country
called
Bright Days
, which will take the band's Americana acoustic persona even further than before. This is also due to come out on Easy Star, along with a vinyl version of
Steady
. In the meantime, fans both old and new can revel in the startlingly good
Steady
.
"
More info »
July 15, 2014
THE GREEN'S SOMETHING ABOUT IT VIDEO PREMIERE
"Throughout 2013, Jesse Yonover filmed The Green on tour in Hawaii, New Zealand, California, Washington, and beyond. With additional editing and direction from Ryan Miyamoto,
Something About It
showcases The Green's tour life on and off stage with friends and fans worldwide. The song
Something About It
is featured on their
Hawai'i '13
album and premiered on Vevo on July 14th 2014. Now you can also view
Something About It
on
Youtube
as well as
Vevo
Here are the links below!
Vevo
YouTube
"
More info »
June 10, 2014
REBELUTION'S COUNT ME IN IN STORES NOW
"
Rebelution
just released
Count Me In
! The album was released on Rebelution's own label, 87 Music, in partnership with Easy Star Records. Go to
rebelutionmusic.com
to find places to buy the record. As of today, the album has ranked as high as
#3
overall in Itunes!
Check out all of the positive feedback Count Me In has received thus far:
"Listening to 'Count Me In' is an invigorating, mystical mountain-top experience. The music is bright, airy, clear and brilliant."
— Rustzine
"Rebelution cultivates a sun splashy sound that owes a lot to the pop-reggae efforts of Black Uhuru and Third World. 'Count Me In' is an easy-on-the-ears confection…with seamless and slick dancehall-style grooves."
— Relix
"Rebelution's 'De-Stressed'…the thing is more than just a bouncy tune with horns and a funky organ line. It's a mantra."
— Fox Sports
"What really makes 'Count Me In' such a great album is the complex personalities that make up the band. Rebelution is all about a united band of brothers that have been earning it for years. They're at the top of their game and they are able to climb the loftiest peaks and make it all look easy. They succeed in crafting original music that's both totally contemporary and classic at the same time. Very Highly Recommended."
— Rustzine "
More info »
March 20, 2014
REBELUTION RELEASES ALBUM WITH EASY STAR
"
Rebelution
will come out with
Count Me In
, their fourth full-length release, on June 10. The album will be released on Rebelution's own label, 87 Music, in partnership with Easy Star Records. Fans can get a taste of the new music by going to www.rebelutionmusic.com for a free download of the track, "De-Stress."
Count Me In
was produced by the SoCal-based Rebelution (Rachmany, Rory Carey/keyboards, Marley D. Williams/bass, and Wesley Finley/drums), and recorded in Miami and Burbank, CA between September and December of last year. The album features special guest appearances by dancehall singer Collie Buddz (on the track "Hate To Be The One") and legendary roots reggae vocalist Don Carlos (on "Roots Reggae Music"). Buddz has toured with Rebelution, and Carlos has been an enormous vocal influence on Rachmany, so these are both special pairings for the band.
Rebelution chose the album's title as each member is a strong believer in the sense of community and collaboration. "Over the past ten years as an independent band," Rachmany explained, "We have felt a strong connection to the many people who have been incredibly supportive, and could not be more thankful to be a part of such a like-minded, positive and inspiring community."
While the music and lyrical content varies on
Count Me In
, the album's 11 tracks provide positive inspiration, encouraging fans to create a pro-active and optimistic impact on society and life. "A lot of what we hear every day is that money measures success," added Rachmany. "This new album is a reminder to spread love and positivity to the people around us - these are the true measures of success." "
More info »
March 06, 2014
DUB SIDE RE-RELEASE IN SEPTEMBER, TOUR IN SPRING
"In September 2014, Easy Star All-Stars we will release a special anniversary edition of the classic album,
Dub Side Of The Moon
, with new artwork, an in-depth liner note booklet and two bonus tracks, including a new version of the song "Breathe" featuring additional vocals by Eric Rachmany of Rebelution, Metric Man, and Ruff Scott of the Easy Star All-Stars.
The band also hits the road for the Dub Side Of The Moon Anniversary Tour performing the album live in its entirety alongside classic material from the band's career including original songs and tracks from the other tribute albums. Select shows will also include new animated visuals that were debuted at live shows in November 2013.
The tour features a number of great pairings as well, including five co-headlining shows with John Brown's Body (including the third teaming up for 4/20 weekend at Brooklyn Bowl), two shows with Ted Sirota's Heavyweight Dub, and four shows with Rochester's celebrated Thunder Body. Longtime collaborator Cas Haley brings his band, Big Hope along to open all of the dates on the Southeastern section of the run. The band also makes its first appearance during JazzFest in New Orleans with a show at Howlin' Wolf along with Ivan Neville's Dumpstafunk.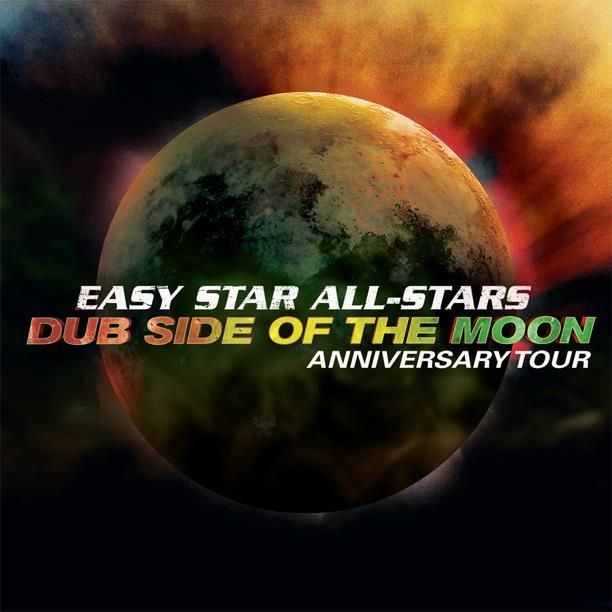 "
More info »
---