March 06, 2014
DUB SIDE RE-RELEASE IN SEPTEMBER, TOUR IN SPRING
"In September 2014, Easy Star All-Stars we will release a special anniversary edition of the classic album,
Dub Side Of The Moon
, with new artwork, an in-depth liner note booklet and two bonus tracks, including a new version of the song "Breathe" featuring additional vocals by Eric Rachmany of Rebelution, Metric Man, and Ruff Scott of the Easy Star All-Stars.
The band also hits the road for the Dub Side Of The Moon Anniversary Tour performing the album live in its entirety alongside classic material from the band's career including original songs and tracks from the other tribute albums. Select shows will also include new animated visuals that were debuted at live shows in November 2013.
The tour features a number of great pairings as well, including five co-headlining shows with John Brown's Body (including the third teaming up for 4/20 weekend at Brooklyn Bowl), two shows with Ted Sirota's Heavyweight Dub, and four shows with Rochester's celebrated Thunder Body. Longtime collaborator Cas Haley brings his band, Big Hope along to open all of the dates on the Southeastern section of the run. The band also makes its first appearance during JazzFest in New Orleans with a show at Howlin' Wolf along with Ivan Neville's Dumpstafunk.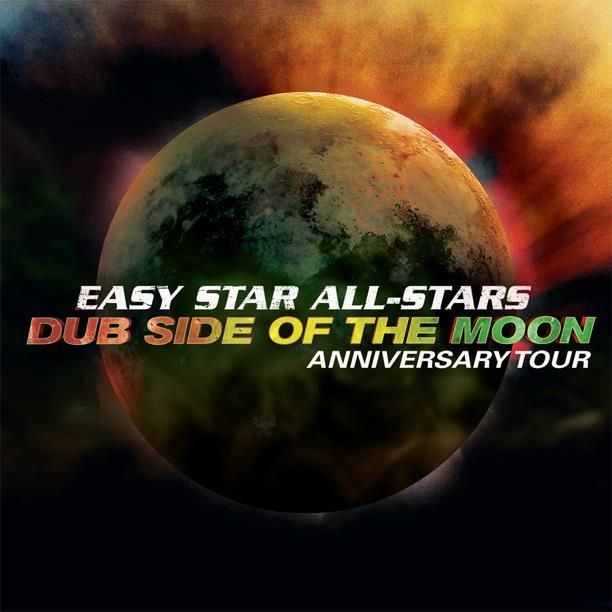 "
More info »
February 14, 2014
HELP GET THE GREEN FEATURED ON HAWAII 5-0!
"The Green is up against three other bands to get their music on the next "fan-built" episode of Hawaii 5-0. The other bands are The Black Keys, Switchfoot, and Johnyswim. You can help them out by clicking
here
to vote for them. Voting starts today and you can vote as many times as you want! Let's make this a big win for our boys!
"
More info »
February 14, 2014
ESA / JBB TEAM UP FOR SHOWS IN APRIL
"Two of Easy Star's longest tenured bands are teaming up for four shows in the Great Lakes region, on a mini-tour the bands are calling Reggae Front 2014. This will mark the bands' first shows together outside of New York City since a 2009 run in England and an earlier run together on the West Coast. For the All-Stars, these shows will continue their celebration of the 11th anniversary of Dub Side of the Moon, with full plays at each show. The four cities lucky enough to score these shows are Madison, WI; Chicago; Cleveland; and Toronto. "
More info »
February 10, 2014
ESA ALUM TAMAR-KALI SETS FIRST SOLO TOUR
"Tamar-Kali plans to set out this Spring on her first solo tour entitled, Black Bottom Review: A Rock n Roll Cabaret. In order for this to happen, Tamar is asking for your help by making pledge donations in exchange for unique exclusive offers, including a live EP of the tour! Post goal pledges will go towards additional tour dates and production versatility for the EP, with 10% of post pledges going to the National Alliance of Mental Illness, the nation's largest grassroots mental health organization. You can click
here
to make your pledge today. Let's help Tamar reach her goal and get her music out on the road! "
More info »
February 06, 2014
MORE DUB SIDE ANNIVERSARY SHOWS COMING
"Easy Star All-Stars have revealed the first upcoming dates for the Spring, which will continue celebrating the anniversary of Dub Side Of The Moon, with full plays of the record at most shows. The band will start off in Amityville, NY on March 27th, then will head to Boston, MA, Mt. Snow, VT, Ithaca, NY, ending in Kalamazoo, MI. Joining the band on select dates of the tour will be Thunder Body and Ted Sirota's Heavyweight Dub. The band will also play at the 2014 Austin Reggae Festival on April 18th and on April 25th will head down to Jazzfest in New Orleans to play at Howlin' Wolf's Fest By Night 2014 with Dumpstaphunk. For more information check out Easy Star All-Stars'
tour dates page!
"
More info »
---