May 03, 2010
EASY STAR ALL-STARS JOIN JAM CRUISE 9
"The Easy Star All-Stars are very excited to announce that they will be on the boat for Jam Cruise 9 this coming January 4-9, 2011. The floating festival has the best reputation in the business for incredible live music and fun times. Here's the official release from them:
MSC POESIA SETS SAIL JANUARY 4-9, 2011 FROM FORT LAUDERDALE, FL WITH STOPS IN ROATAN, HONDURAS AND COSTA MAYA, MEXICO.
ON-SALE TO PUBLIC IS JUNE 2 AT 12 NOON ET ON WWW.JAMCRUISE.COM.
It's been 7 years and 8 sold-out cruises since Jam Cruise first set sail as the "floating music festival" that has become a fan favorite for thousands.
Tropical ports and luxury cruise ship amenities are only part of the Jam Cruise experience. Ultimately, Jam Cruise is about celebrating the MUSIC and incredible community that comes together each year to share in this special musical experience. Jam Cruise 9 returns with as strong and eclectic a lineup as ever.
Jam Cruise 9 Confirmed Lineup:
Bob Weir, Rob Wasserman, & Jay Lane are Scaring the Children
The Rhythm Devils feat. Bill Kreutzmann and Mickey Hart
Robert Randolph & The Family Band
Galactic
The Greyboy Allstars
God Street Wine
Stockholm Syndrome
Lotus
JoJo's Mardi Gras Band
ALO
Ivan Neville's Dumpstaphunk
Easy Star All-Stars
Lettuce
Garage A Trois
The New Mastersounds
Sierra Leone's Refugee All Stars
Black Joe Lewis & The Honeybears
Anders Osborne featuring sets with Stanton Moore & Robert Walter and with George Porter, Jr & Johnny Vidacovich
Big Sam's Funky Nation
Cornmeal
Some Cat From Japan featuring Ron Johnson, Will Bernard, Scott Metzger, Eric Bolivar & Nigel Hall performing a tribute to Jimi Hendrix
Greensky Bluegrass
Big Gigantic
Zach Deputy
The Pimps Of Joytime
Maceo Parker Super Jam
Special Guests:
Leo Nocentelli
Fred Wesley
Col. Bruce Hampton
Jennifer Hartswick
Big Chief Monk Boudreaux "
More info »
April 30, 2010
JBB HEAD TO EUROPE AND GIVE AWAY FREE MUSIC
"We are excited to let fans know that John Brown's Body heads across the pond May 7 to play in Europe for the first time. Following successful runs in the UK and New Zealand at the end of 2009, JBB continues to expand their reach, bringing their amazing live show to new audiences. The tour includes 7 shows in France, Belgium and Germany, including shows with the Skatalites and the Aggrolites along the way. Check the
JBB tour date page
for more info or go directly to
JBB's website
. If you go to their website, be sure to check out the free sampler download albums the band is currently offering. The Spring Sampler has a bunch of great studio tracks, while the Live 2010 sampler showcases excellent recent live performances. Both are a perfect intro the band and are free. "
More info »
April 27, 2010
WIN A COPY OF THE BLACK SEEDS 7" SINGLE
"You can win a copy of the limited edition 7" from the Black Seeds, which was just released. It features two of the funkiest songs on Solid Ground: "Afrophone" and "Rotten Apple." Giant Step is running a contest on their
site
. Check it out and maybe you'll win. And if you don't want to leave it to chance, go to the
Easy Star store
and order a copy of the single now. "
More info »
April 16, 2010
THE BLACK SEEDS NEWS: JULY TOUR & NEW VIDEO
"We are happy to report that the Black Seeds are coming back to the US of A in July, with three major festivals confirmed, and many more dates to be announced in the weeks to come. The three confirmed fests are High Sierra in Quincy, CA on July 3 & 4 (a show each night); the ever crazy Camp Bisco 9 on July 17 in Mariaville, NY; and the Grassroots Festival on July 23 in Trumansburg, NY. The Black Seeds are known for their amazing live sets, so don't miss out on these chances in July.
Meanwhile, the group has been keeping busy in New Zealand. They just completed a new video for the new single "Love Is A Radiation."
As they tell it in their latest email: our friends at Nektar Films here in Wellington have created an amazing video. The video combines images of historical and present day events from around NZ and the world, that have both shaken and inspired.
We at Easy Star are enjoying it and hoping it holds over our hunger until July and the return of the real thing to our shores. PS. check in next week for news on a new 7" single by the band... "
More info »
April 01, 2010
VAPEWORLD SPRING TOUR VAPORIZER CONTEST
"You know what they say: April vapors bring May flowers...or something like that...however it goes, you will be happy to know that Easy Star is working with major tour sponsor
VapeWorld.com
to bring you an amazing contest: the Spring Tour Vaporizer Contest. We are giving away three packages of vaporizers and accessories totalling $1000 in goods and one of the three people who win should be you. So enter by going
here
or you can enter at any of the upcoming
shows
at the merch booth. This will run until May 15, 2010.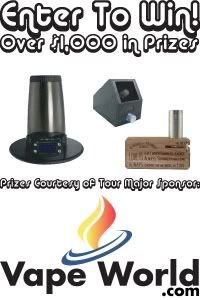 "
More info »
---