March 15, 2010
LISTEN TO THE TOMMY T PODCAST
"Check out a new
podcast
compiled by Tommy T with music from his recent solo release
The Prester John Sessions
, plus favorites from his personal collection. Music includes artists like Aster Aweke, once dubbed "the Aretha Franklin of Ethiopia," Aswad and Michael Rose of Black Uhuru. Tommy concludes with a track from
The Prester John Sessions,
"Tribute to a King," dedicating the mix to The King of Ethiopian music, Dr. Tilahun Gesesse. "
More info »
March 05, 2010
DESIGN A NEW SHIRT FOR DUB SIDE OF THE MOON
"We need your help designing a new tee shirt for Dub Side of the Moon. Anything is possible, so let your creative juices flow. You can submit a design entry by going
here
. The winning designer will receive a copy of the winning shirt, signed by members of the Easy Star All-Stars, along with a pair of tickets to an upcoming show and a meet and greet with the band. Five (5) runners up will win pairs of tickets to shows. This contest will run until March 31. "
More info »
February 19, 2010
EASY STAR ALL-STARS RETURN TO COLORADO
"The Easy Star All-Stars, the New York City-based collective who have steadily built themselves into one of the leading reggae acts worldwide, will return to play shows in Colorado this March for the third year in a row. The 2009 trip included four sold out shows and more are expected this time around as well.
In 2009, the band released the third in their reggae tribute album series, which began with Dub Side of the Moon (2003) and Radiodread (2006). Easy Star's Lonely Hearts Dub Band, which came out in April 2009. It became the first reggae album in over two years to crack the Billboard Top 200, something it managed twice in its first month of release. The Lonely Hearts World Tour saw the band play 125 shows in 25 countries on 6 different continents in 2009 alone.
Fans can expect to see material from all three tribute albums along with original songs from the band. Click
here
to see the band's announced tour dates. "
More info »
February 19, 2010
JACK JOHNSON FLASHES HIS EASY STAR SHIRT
"Jack Johnson recently headed into his studio to lay down tracks for his new album...and he was obviously finding some inspiration in his shirt choice!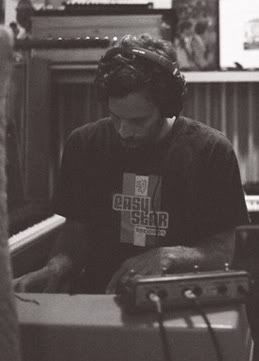 "
More info »
February 03, 2010
JOHN BROWN'S BODY KICKS OFF MORE TOURING
"Tonight, John Brown's Body begins another stretch of the heavy touring that has defined this group for years now. First up is a 14 show outing with old friends Giant Panda Guerilla Dub Squad, running along the East Coast from Boston down through Florida and back again. Then they begin a co-headlining run with Toubab Krewe March 11 which will bring both groups across the country, ending in Southern California in April. Check the
JBB tour dates page
on our website for the latest info and updates on the shows.
Here's the press release JBB and Toubab Krewe put out for their tour:
Progressive reggae band John Brown's Body and West African-influenced quintet Toubab Krewe kick off a 14-city co-headlining U.S. tour.

Each group has achieved mainstream success by performing their own forward-thinking approach to traditional roots styles, John Brown's Body with reggae and Toubab Krewe with West African music.

In recent years both groups' music has spread like a grassroots wildfire to the farthest corners of the world. While Toubab Krewe performed in Mali and Portugal, John Brown's Body completed first-ever tours of New Zealand and the UK in late 2009.

This month, the musicians were re-introduced aboard Jam Cruise -- the celebrated, floating music festival in the Caribbean. Returning from stops in Jamaica and Grand Cayman Island, the bands met up during an all-artist basketball tournament (neither advanced past the first round). Despite a disappointing showing on the court, they spent the night catching up and watching each other perform as the ship sailed out to sea.

The upcoming tour will build on the friendly vibe forged in far away places, where the bands found common ground.
"
More info »
---